I hear a noise and have to catch myself when I think "what is Jack doing?"  I expect to see him at the top of the basement steps when I come home.  I miss the sense of protection he gave us.  I miss him.
But we promised the kids we would start looking for another dog.  Frankly, I was worried that if we didn't look I would start liking not having a dog; come and go when you want, no poop to pick up, etc…  But we are dog people.  So we took a family outing to the local dog shelter.  We are not only dog people but shelter dog people.  We prepped the kids for a long wait to find the "right" dog.  We had looked on and off for about two years to find Jack.
The CFO and Princess went to the shelter to look while the boys and I got sunburned at baseball practice.  When we joined them after practice I found out they had spent 1.5 hours with a cute little pup that turned out to be "the one."  Meet Butterscotch…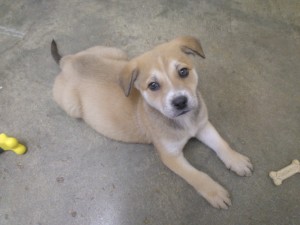 She is WAY younger that I would prefer but she is a great dog and submissive.  Bring on the episodes of the Dog Whisperer!
If you pick up a starving dog and make him prosperous he will not bite you. This is the principal difference between a dog and man.
Mark Twain
A man is given the choice between loving women and understanding them.
Ninon de L'Enclos
Al